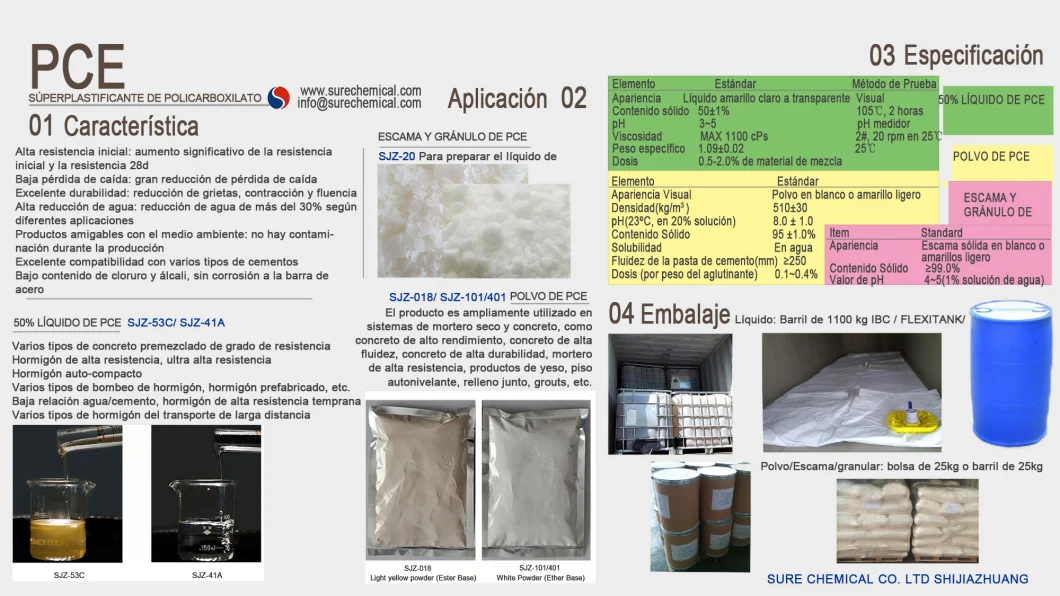 We are reliable and professional Chinese supplier. Good choice, better service! Cooperation with us may help you cut down the cost dramatically and get more flexible payment terms. We have exported more than 10,000mt Polycarboxylate superplasticizer (PCE) 50% liquid and powder per year, which has been shipped to South America, South East Asia, Russia etc.
Polycarboxylate superplasticizer (PCE) is also called polycarboxylate ether superplasticizer, polycarboxylic ether based superplasticizers, polycarboxylate admixture, polycarboxylate type of superplasticizer. It is the best superplasticizer for concrete at present.
How to buy Polycarboxylate Superplasticizer ?


1. Why use Polycarboxylate superplasticizer ? As follows:
1) High early strength: significant increase of early strength and 28d strength
2) Low slump lose: Great reduction of slump lose
3) Excellent durability: Reduction of cracking, shrinkage and creep
4) High water reduction: Water reduction more than 30% according to different application
5) Environmental-friendly products: Non pollution during production
6) Excellent compatibility with various types of cements
7) Low chloride and alkali content, no corrosion to steel-bar
2. Which Polycarboxylate superplasticizer do you need ? Look into them one by one:
Polycarboxylate Superplasticizer (PCE) 50% Liquid
Polycarboxylate Superplasticizer (PCE) Powder
Polycarboxylate Superplasticizer (PCE) Flake/ Granular


3.Technology informations
Polycarboxylate Superplasticizer (PCE) is a kind of superplasticizer emerged in the early 80's. It is mainly used in cement concrete. In chemistry, Poly-carboxylate-based is an organic and polymeric electrolyte. It belongs to a polymer surfactant. Therefore, it can also be applied in other paste materials such as gypsum products and ceramic products to reduce water content.
Poly-carboxylate is a weak electrolyte. It can only be fully dissolved in an alkaline solution. It can compound with cations in cement/water system to control the cement hydration process and thus to reduce the slump loss of the concrete. Poly-carboxylate achieves its water reducing effect through the yield of electrostatic repulsion and steric hindrance when it is absorbed to the cement particles. Hence, Poly-carboxylate is the most effective superplasticizer for cement concrete.
Poly-carboxylate is a raw material for superplasticizer. It is recommended that applicants should determine the Poly-carboxylate dosage in their own formulation according to their trial runs.
4. Package
Liquid :1100 kg IBC drum / Flexi bag (Flexitank) / 200kg/ plastic drum
Powder/Flake/ Granular: 25kg/bag or 25kg/drum