Sodium Tripolyphosphate
Synonym:
Sodium triphosphate; STPP
CAS No.:
7758-29-4
EINECS No.:
231-838-7
Molecular Formula:
Na
5
P
3
O
10
Molecular Weight:
367.86
Structure Formula: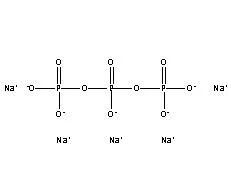 Standard: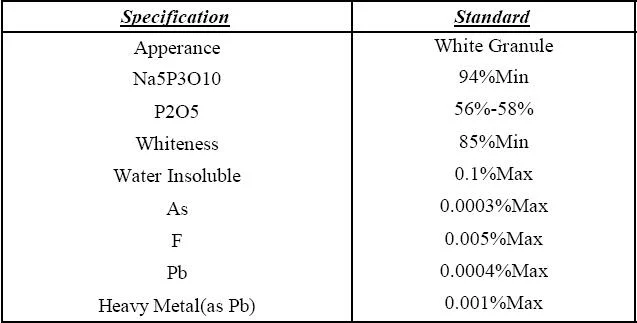 Propertiies:
White crystalline or crystalline powder.Relative molecular weight 367.86, relative density 2.49, melting point 662ºC.Soluble in water (14.5g/100g at 25ºC, 23.25g/100g at 80ºC).Aqueous solution is weakly alkaline, 1% aqueous solution pH=9.7.In an aqueous solution, it hydrolyzes gradually to form pyrophosphate or orthophosphate.It has complexation to alkaline earth metal and heavy metal ion and can soften water.Also has the ion exchange ability, can make the suspension into the solution, dispersity is strong.Type I more II hydrolysis velocity is large, so II is also known as slow hydrolysis.II type at 417 ºC into I type.
Uses:
lt is Used for meat processing, synthetic detergent formulation, textile dyeing, also used as dispersant, AIDS solvent and so on.
Storage:
Sealed and stored in a light-resistant, cool, dry and ventilative place.
Packing:
25kg fiber bag.